This is an edition of The Atlantic Daily, a newsletter that guides you through the biggest stories of the day, helps you discover new ideas, and recommends the best in culture. Sign up for it here.
Welcome back to The Daily's Sunday culture edition, in which one Atlantic writer reveals what's keeping them entertained.
Today's special guest is Atlantic staff writer Marina Koren. Marina reports on astronomy, space flight, and all else that's going on in our universe. You might say, as she once did, that her subject area is "space feels." Marina is currently catching up on the Angela Lansbury TV series Murder, She Wrote, pausing a few minutes before the end of each episode to guess the killer. She's also finding joy online by looking at little illustrations of a cat named Francois living his daily life, and reconnecting with an immersive video game she loved as a child.
First, here are three Sunday reads from The Atlantic:
---
The Culture Survey: Marina Koren
The television show I'm most enjoying right now: Murder, She Wrote, the TV series starring Angela Lansbury (streaming on Peacock). I started watching it for the first time last year, after I saw a tweet about how a good chunk of the show consists of men flirting with Lansbury's irresistible Jessica Fletcher. And Jessica Fletcher is irresistible! Her demeanor? Admirably kind and generous. Her mind? Sharp as a tack. Her outfits? Flawless. I love the moment when Jessica shows up at a crime scene and tells the professionals some version of, Oh, I'm not sure how I could possibly help, Detective. Girl, it's Season 8; you're going to solve this whole thing! Despite the gruesome subject, every episode feels cozy, and my partner and I like to pause a few minutes before the end to try to figure out the killer ourselves. As with any show created in the 1980s and '90s, there are some bits that haven't aged very well. But a good whodunit is, in my opinion, timeless.
And something from this century: I devoured all eight episodes of The Resort, also on Peacock, a clever, raunchy mystery-comedy that also manages to be a quiet meditation on grief. The show's executive producer Andy Siara previously wrote the 2020 movie Palm Springs, which was a fun, time-loop-y ride. [Related: Angela Lansbury could make the silliest movie a work of art.]
Best novel I've read recently, and the best work of nonfiction: Wrong Place Wrong Time, by Gillian McAllister, was impossible to put down. It's about a mother who witnesses her teenage son kill a man outside their home, for seemingly no reason. When she gets up the next morning, distraught and desperate to help her kid, she realizes she's woken up on the day before the murder. How often do you hear about a crime thriller with time travel in it? The storyline is twisty and the prose is excellent, not a word out of place. I went to a great restaurant earlier this year that advertised its meaty crab cakes as "all killer, no filler"—this book felt just like that.
I read Michelle Zauner's memoir, Crying in H Mart, around the time of the crab cakes, and I was in awe of her capacity to write so vividly and unflinchingly about her mother's illness and death. Page after page, she resisted the instinct to look away from the most difficult moments of their lives together, and stared straight at them instead. [Related: What grief tastes like]
An online creator that I'm a fan of: Credit goes to the Instagram algorithm for introducing me to @woodland_ghost, an artist who creates delightful little illustrations of a cat named Francois doing everyday things, such as eating pasta, making soup, and walking along a leafy path. Sometimes the subject is Francois' fellow feline friend Praline. The drawings are soft and soothing, offering little squares of comfort on an otherwise loud and mean internet.
An author I will read anything by: The mystery writer Ruth Ware. She's a master of locked-room mysteries with a small cast of characters and too many secrets. Her 2019 novel, The Turn of the Key, was so spooky and atmospheric that I had to sleep with the lights on for two nights. I rented a car earlier this year to go see her at a book event outside the city, and she reacted to my nervous fan-girling with kindness and grace.
A musical artist who means a lot to me: The singer Ingrid Michaelson. If you know one of her songs, it's probably "The Way I Am," which became popular thanks to a 2007 Old Navy commercial: "If you are chilly / Here, take my sweater." I feel like I've grown up with her voice; I'm not a big fan of live music, but I've been going to Michaelson's shows since I was a teenager. Her songs are lovely and heart-wrenching, and she's quite the comedian onstage, too. She loved Stranger Things so much that she made an entire synth-filled album inspired by the show—and it's really good!
My favorite way of wasting time on my phone: Hear me out: TikTok is the best social network. There's no FOMO, because I don't follow everyone I know in real life, and there's no Twitter trolls yelling at me over my latest article. Just cats, and cooking videos, and whatever else the platform has figured out I enjoy. The scrolling is fragmenting my attention span and probably rotting my brain, and I shout "ATTENZIONE, PICKPOCKET!" every time my cat paws at my stuff. But the darn things make me laugh, and laughing is good for you. Surely that cancels out the brain rot? [Related: TikTok is doing something very un-TikTok.]
The last thing that made me snort with laughter: Barbie. Just one brilliant one-liner after another. [Related: The surprising key to understanding the Barbie film]
The last thing that made me cry: Also Barbie. The moment a sobbing Margot Robbie says that she's "not good enough for anything"—that'll get the anxiety-ridden perfectionists in the theater. But before that it was Past Lives, a delicate and intimate film about love, identity, and the fraught (and usually impossible-to-answer) question of what might have been. Watching it felt like trying to wrangle competing thoughts from my inner tween, who loved reading young-adult romance books with uncomplicated happy endings, and my adult self, who knows better. (Bonus: The chemistry between the actors Greta Lee and Teo Yoo radiates off the big screen.) [Related: A love that can be at once platonic and romantic]
Something I recently revisited: Does a video game count? I recently spent a six-hour flight playing Pharaoh, a city-building game that my sister and I loved as children. It's a Windows game from 1999 that barely runs on anything anymore, but miraculously works on my partner's Steam Deck, a handheld gaming device. The setting is ancient Egypt, and it's vibrant and wonderfully detailed. You can build bazaars and fill them with figs and chickpeas for your citizens, but you also have to keep the unemployment rate down and throw enough festivals so the gods don't hate you. It's a thrilling little world to get lost in. I've never reached the final mission, which probably has the biggest pyramids, but there's still time.
---
The Week Ahead
August Wilson: A Life, Patti Hartigan's authoritative biography of the Pulitzer-winning playwright who transformed American theater (on sale Tuesday)
Season 4 of The Upshaws, which follows a working-class Black family striving for a better life in Indiana (streaming on Netflix this Thursday)
Back on the Strip, featuring Spence Moore II and Tiffany Haddish, follows a magician who joins a stripper crew after losing the woman of his dreams (in theaters Friday).
---
Essay
The Ones We Sent Away
By Jennifer Senior
This story starts, of all things, with a viral tweet. It's the summer of 2021. My husband wanders into the kitchen and asks whether I've seen the post from the English theater director that has been whipping around Twitter, the one featuring a photograph of his nonverbal son. I have not. I head up the stairs to my computer. "How will I find it?" I shout.

"You'll find it," he tells me.

I do, within a matter of seconds: a picture of Joey Unwin, smiling gently for the camera, his bare calves and sandaled toes a few steps from an inlet by the sea …

I spend nearly an hour, just scrolling. I am only partway through when I realize my husband hasn't steered me toward this outpouring simply because it's an atypical Twitter moment, suffused with the sincere and the personal. It's because he recognizes that to me, the tweet and downrush of replies are personal.

He knows that I have an aunt whom no one speaks about and who herself barely speaks. She is, at the time of this tweet, 70 years old and living in a group home in upstate New York. I have met her just once. Before this very moment, in fact, I have forgotten she exists at all.
Read the full article.
---
More in Culture
---
Catch Up on The Atlantic
---
Photo Album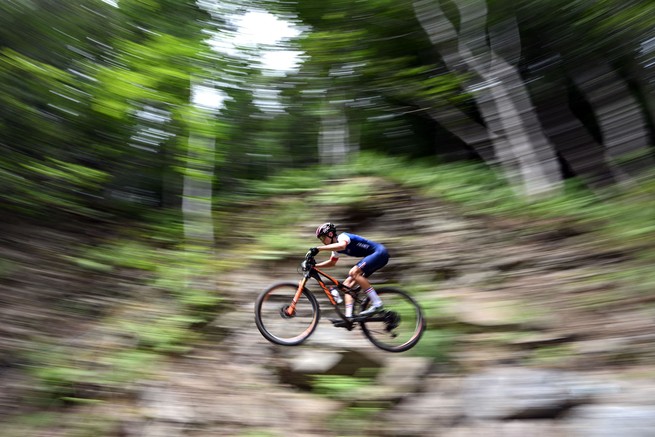 A dog-surfing championship in California, a rescued wallaby in Australia, and more in our editor's selection of the week's best photos.
---
Katherine Hu contributed to this newsletter.
Explore all of our newsletters.