Intro
We wrote about America's Car-Mart, Inc. (NASDAQ:CRMT) in March of this year post the company's third-quarter earnings when we stated how the company's ongoing transformation could positively affect the share price. Although the company reported a further bottom-line miss in Q4, shares have risen a whopping 47% since we penned our most recent commentary four months ago.
The rise in CRMT's share price is predicated on the expected growth which is coming down the pike in this play. If we look at CRMT's compelling expected growth rates below, we see that shares at present are trading with a forward (2025) earnings multiple of a mere 8.9. Suffice it to say, if these annual estimates are met or exceeded in their respective years, shares are by no means expensive, which may mean significant returns may yet lie ahead for investors.
The overhaul of operations primarily includes the company's new ERP initiative which should be up and running by the end of calendar 2023. The new system (where data management will become key) should enable CRMT to boost its margins over time through a more robust turnover of stock. CRMT's trailing net income margin comes in only at a mere 1.46% at present so strong efficiency improvements should boost this number over time and the share price alike. The customer relationship management system (which works in tandem with the ERP system) through the new 'loan origination system' will ensure that America's Car-Mart will have the ability to deal with far better prospects at scale over time. However 'market conditions' as we know play a huge role in the automotive retailer space. Will for example interest rates continue to rise which will suppress affordability? Will the market continue to consolidate post-covid which will allow bigger players to take market share over time? These questions are obviously unknown at this point but obviously critical to CRMT's success over time.
Therefore to try and get a read on where America's Car-Mart will trade going forward, let's go to the technical charts to see if they indeed point to further rising prices in CRMT over the upcoming months. Remember, the technicals incorporate every piece of available information and trends which could potentially affect the share price of CRMT over time.

20-Year Long-Term Chart
If we pull up a 20-year chart of CRMT, we see that the sustained rally out of the stock's October-2022 lows has led to a convincing crossover of the stock's MACD indicator. This indicator is especially noteworthy on long-term charts due to the amount of information it can digest from a momentum and trend standpoint. Suffice it to say, given CRMT's long-term pattern of higher highs and higher lows and the fact that the recent MACD bullish crossover took place at an ultra-oversold level, investors arguably have the best long-term buying opportunity in front of them in CRMT at this present moment in time. The one disclaimer here though is that the stock's 10-month moving average ($88.77) has not crossed above its corresponding 40-month average ($102.50) thus far. This is the final step we need to see in order to confirm that CRMT has returned to a bull market.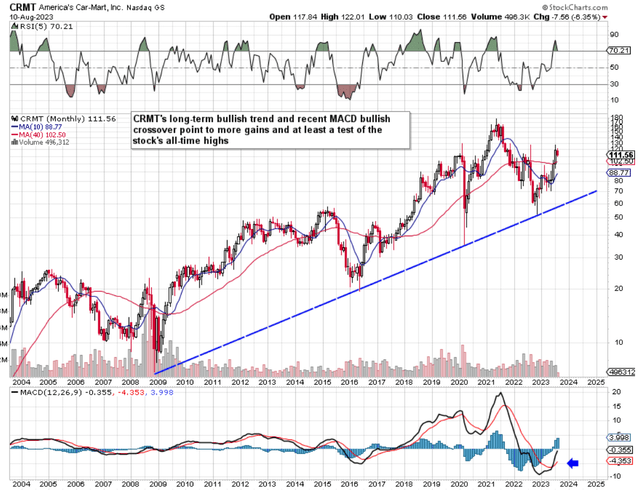 Intermediate 5-Year Chart
Although we have a bullish crossover concerning CRMT's moving averages on the intermediate chart, shares failed to take out overhead resistance at over $120 a share in early August of this year. Therefore, given that shares have been on the rampage since March of this year, CRMT's intermediate technicals look overbought here which is why a near-term pullback looks likely.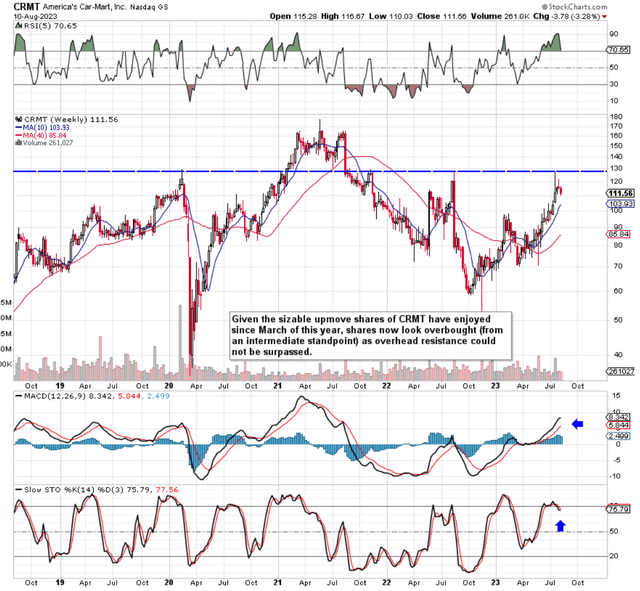 Daily 12-Month Chart
Failure to take out overhead resistance has resulted in CRMT's ADX trend-following indicator turning over to the downside. This indicator measures the strength of the trend in progress meaning that the upward trend that CRMT has enjoyed since March of this year has now lost some of its potency. Furthermore, given that the stock's 4-day moving average has already crossed below the corresponding 9-day average, the worry here (given the lack of buying volume which has accompanied this latest up-move) is that we get a similar type of descent to what we witnessed last August. Suffice it to say, if CRMT's 9-day moving averages consequently crosses below the 18-day moving (thus completing a triple crossover), this would be a strong trading alert to indeed remain out of CRMT for the time being.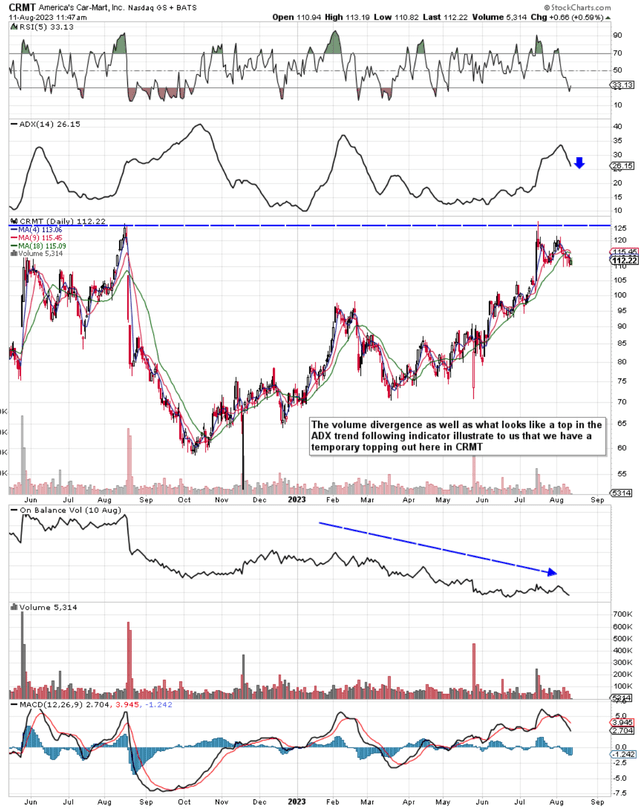 Conclusion
Although CRMT looks oversold on the long-term chart, the stock's 10-month moving average has yet to drive past its 40-month counterpart which means a fresh bull market has yet to be confirmed. Furthermore, resistance on the intermediate chart has led to a drop-off in the ADX trend-following indicator on the daily chart. All in all, we would caution in getting long CRMT at this juncture so we are reiterating our 'Hold' rating. We look forward to continued coverage.