Brier Dudley | Seattle Times Free Press editor
When summer began, the future of the Wahkiakum County Eagle was in limbo.
Now, as the season winds down, the beloved newspaper published alongside the Columbia River is seeing what may be the best possible outcome.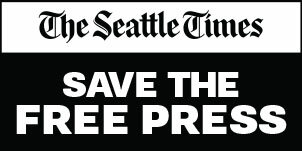 Rick Nelson, who took over as publisher after his father died in 2006, entered hospice in May with no apparent plan for succession. The staff never stopped publishing the weekly, even after he died on June 2.
One option under consideration was forming a cooperative to take over the paper. Selling had also been explored in the past.
The suspense ended on Aug. 3 when the paper ran a brief announcement saying that the Nelson family would continue publishing the paper.
Now leading the operation are Rick Nelson's son Jacob, a researcher at Microsoft Research in Redmond, and his husband, Seattle theater actor, director and playwright Brandon J. Simmons.
A turning point came after they spent time at the paper this summer, helping out and seeing the importance of the service it provides.
"We've talked about this for years, Brandon and I have, in various ways," Jacob Nelson, 45, said. "But really just being there and talking to the staff and people in the community gave us a different perspective on what we could do and how we could contribute to the community."
This is an unusual situation, a rarity in an industry where thousands of weekly newspapers closed or sold to chains in recent years as owners retired or passed on, and their descendants chose other paths.
That Wahkiakum County continued to have a healthy newspaper is a testament to the Nelson family, which acquired the Eagle in 1966. It now has around 1,400 subscribers, which is impressive for a county with around 1,900 households.
Jacob Nelson helped out as a kid but was more interested in technology. With the family's encouragement he went on to earn a Ph.D. from the University of Washington and joined Microsoft Research in 2016.
Now, when he's not researching programmable network devices that can accelerate distributed systems in data centers, he and Simmons are staying with his mother and figuring out how to reboot a 132-year-old newspaper.
The immersion in small-town newspapering is inspiring for Simmons, 42. He said "it was somewhat unexpected that I was going to respond as powerfully as I did to being in the environment after Rick's death."
"I was going to do a two week trial run, see if it was a fit for me to stay more long term," he said. "On day two I went to Jacob and said 'I'm in, I'm in it to win it, I'm fully invested here.'"
Simmons said he was struck by how the staff talked about the community and how the newspaper was put together.
They also saw potential in upgrading the paper's online presence and sprucing up its historic building in Cathlamet. It started in 1891, the same year as The Seattle Times, which has been owned by the Blethen family since 1896.
The Eagle has another advantage, compared to most newspapers undergoing such a transition. Its new publishers aren't starting out with a debt burden and have resources, from Rick Nelson's careful stewardship, to invest in the company.
Also being updated are processes to produce the paper.
While remote work adds challenges, Nelson said it's an opportunity to bring a new perspective to how the newspaper operates and improve the workflow.
Changes were coming regardless because a linchpin of the staff, production and advertising manager Geri Florek, is retiring this year after 30 years.
"She's the real hero," Nelson said.
It will take time to figure out how to continue doing all the things she does for the paper.
"The way I've been thinking about this, when Grandpa was doing this, when Dad was doing it, it was an all encompassing task," he said. "The heartbeat of newspaper production affected everything else in life."
New structures should also help the staff take on tasks that Rick Nelson was doing and "make the paper more sustainable," Jacob Nelson said.
Even so, publishing a community newspaper requires a local presence to maintain relationships with readers and advertisers.
When asked whether they can do that while dividing time between Seattle and Cathlamet, Nelson and Simmons emphatically said yes.
"We're very much here. I don't see us going fully remote," said Simmons, who spent nearly all of the last five weeks in Cathlamet.
Theater work is sporadic and Nelson can do some work remotely, he said, and staying with Nelson's mother is also a good thing now.
Will the community have concerns about these new publishers with a home in Seattle?
"Quite the contrary," Ian Brandon, the Eagle's advertising manager, told me.
"I think the best thing that could have happened as far as the community perceives it is for a family person, or a local person," Brandon said. "Jake, he'll forever be local because he grew up here. That's what's important."
Dean Takko, a longtime subscriber and former legislator representing the area, concurred.
"I can tell you there's a lot of people very happy that tradition's going to continue on with their family," said Takko, who now lives in Longview.
Brandon said he's still a newcomer, seven years after moving from a city to the south.
"If I'd taken over," Brandon said, "there might be a little bit of 'This guy, from the metropolis of Vancouver, what's he doing.'"
Brier Dudley on Twitter: @BrierDudley is editor of The Seattle Times Save the Free Press Initiative. Its weekly newsletter: https://st.news/FreePressNewsletter. Reach him at bdudley@seattletimes.com.