Harry Kane is targeting "many more" goals for England after becoming his country's all-time leading scorer.
Kane's record-breaking 54th England goal helped Gareth Southgate's side secure a 2-1 European Championship qualifying win over Italy on Thursday, and afterwards the captain said he is in the best shape of his career.
It is 103 days since the 29-year-old drew level with Wayne Rooney's record by scoring a penalty against France, but that night is best remembered for him missing his second spot-kick in a quarter-final exit.
Kane bounced back from that disappointment in historic fashion in Naples, striking from the spot to move to the top of the national team scoring charts with 54 goals ahead of Rooney.
Speaking after his record-breaking night, Kane said: "I don't like to look too far in the future but I'm 29, I'm feeling fit and strong – the best I've felt in my career. I hope I have many more years.
"Playing for England is probably my greatest feeling in football. I want to do it for as long as possible and as a striker I want to score in every game.
"Hopefully there will be many more."
Kane's England record…
Kane: It had to be a penalty!
Harry Kane becomes England's all-time record goalscorer with is 54th goal for the national side to put Gareth Southgate's side 2-0 up against Italy.

The new record-holder admitted a lot of emotions came out after his landmark penalty in Naples.
"Yeah it means everything," he told Channel 4. "We were so excited to put the England shirt back on and get back out here and get the campaign started for the Euros next year.
"It had to be a penalty, of course, and once it hit the back of the net it was just so much emotion.
"Just thanks to all the players, the staff, the fans, my wife, my family back home and everyone who has helped me get to this stage. It is just a magical moment.
"Thankfully I put it away and just a great night. We haven't won in Italy for so long. To score and win the game is special.
He added: "The World Cup was obviously a difficult way to end. It was tough to finish it that way.
"We spoke about getting back to it. We feel like we are one of the best teams in Europe and we just need to keep knocking on the door.
"We're getting close but coming here and putting in a performance like that today shows we're ready for the next challenge."
Kane's praise for Southgate
Kane was handed his England debut in 2015 by Roy Hodgson, coming on as a second half substitute for Rooney, and he took just 80 seconds to grab his first international goal.
He was handed the England captaincy by Gareth Southgate, who Kane praised for playing a "really big part" in his journey to becoming his country's most prolific international player.
When asked what Southgate said to him straight after the game, Kane said: "He said he was extremely proud and that I deserved it.
"A big thanks to Gareth. My England journey started with Roy [Hodgson] but Gareth has played a really big part.
"We've had some really good times and are growing as a team. We haven't achieved what we want to achieve yet but tonight was a big statement after the World Cup and for huge spells in the game we played really well.
"It shows the type of team we want to be."
Southgate: Kane becoming England's all-time top scorer shows his mentality
England manager Gareth Southgate was full of praise for Harry Kane after he became England's all-time top scorer.

England manager Gareth Southgate returned the compliment, praising the Tottenham striker's character and mentality after he put his World Cup penalty heartbreak firmly behind him.
"His overall performance was outstanding – he dominated the centre-backs," Southgate said. "You could see from early on he was on it.
"To break the record in the manner that he did shows the strength of his character and mentality. I couldn't be happier for him and his family – they are lovely people. He is a brilliant professional.
"To break the record with a lot of his career to go is an incredible achievement. The players gave him a brilliant reception afterwards, that was in response to breaking the record and what he had to recover from.
"I can't remember what he said but I'm sure it was a on a video as everything is videoed these days and nothing stays in house. Everybody recognised it was a special, historic moment and he deserves every bit of praise that he gets."
In pictures: Kane breaks the England scoring record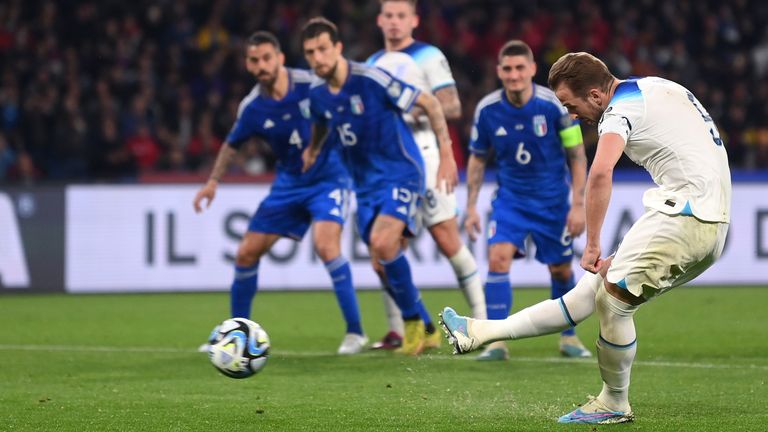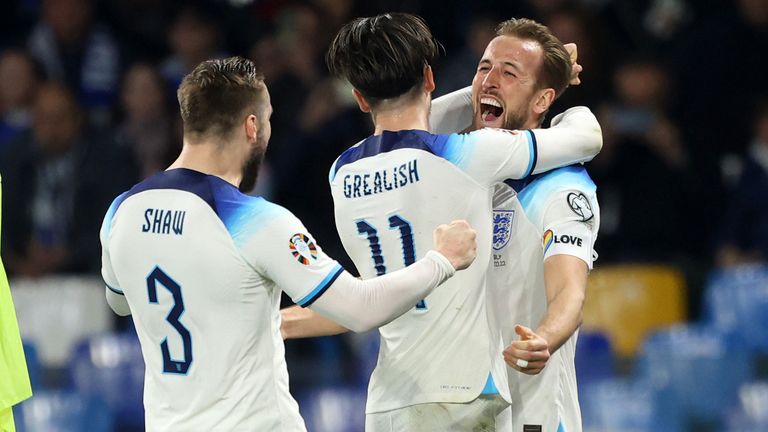 Reaction to Kane's record-breaking goal
Kane: Rooney's a special man
Kane on Wayne Rooney paying tribute to him:
"Big thanks. I was on the pitch when Wayne broke the record. I know what it meant to him and I was so proud of him. I remember when I gave him the boot for breaking the record, he said he would be giving it back to me one day. A special man."
England's Group C schedule…
England will play home and away against Italy, Ukraine, North Macedonia and Malta in Group C. After this evening, their fixture list is as follows:
Mar 26, 2023 – England vs Ukraine
Jun 16, 2023 – Malta vs England
Jun 19, 2023 – England vs North Macedonia
Sep 9, 2023 – Ukraine vs England
Oct 17, 2023 – England vs Italy
Nov 17, 2023 – England vs Malta
Nov 20, 2023 – North Macedonia vs England
What's next?
England host Ukraine in their next European Championship Qualifier at Wembley on Sunday; kick-off 5pm.
Italy are away to Malta at the Ta' Qali National Stadium on the same day in Group C; kick-off 7.45pm.