It wasn't quite the "Helmet Catch" from the 2008 Super Bowl, but Nathan Rourke sure looked like Eli Manning during a wild sequence Saturday night.
The Jacksonville Jaguars quarterback escaped intense pressure and launched a prayer toward the end zone that turned into a touchdown.
On 3rd and 16 with just over four minutes left in a first preseason game against the Dallas Cowboys, the Jaguars' offensive line was quickly overwhelmed.
CLICK HERE FOR MORE SPORTS COVERAGE ON FOXNEWS.COM
But Rourke evaded three sacks on the play, launching his touchdown pass on his way down to the turf.
Rourke crouched down to avoid the first sack, then a defender slipped off of him. Rourke then shuffled to the right and was caught by a third defender but managed to stay upright.
Just before his knees hit the field, he threw a prayer toward the end zone that found running back Qadree Ollison for a 21-yard score.
This play won't be remembered quite like Manning's. The New York Giants quarterback, on a 3rd and 5, maneuvered out of several sacks to find David Tyree deep to continue what turned into the Super Bowl-winning drive over the 18-0 New England Patriots.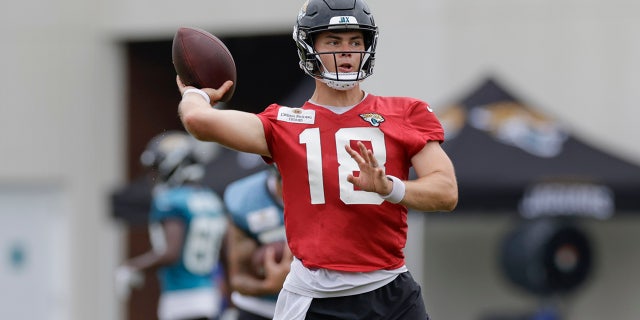 JOHNNY MANZIEL'S FORMER BROWNS TEAMMATE REVEALS WHEN HE KNEW TEAM WOULD HAVE 'PROBLEMS' WITH HIM
But at least the play resulted in a score that gave Jacksonville a 28-16 lead. The Jags gave up a late touchdown but still won by six.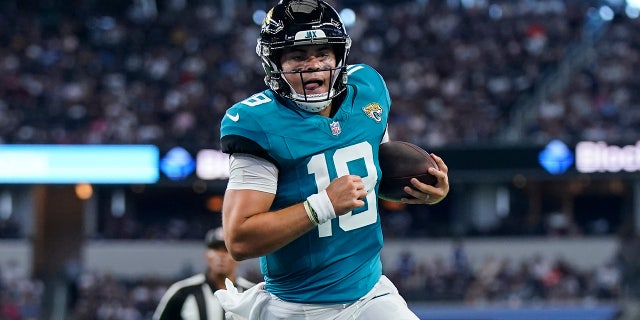 CLICK HERE TO GET THE FOX NEWS APP
Rourke went 9-for-17 for 153 yards and the touchdown. He got most of the snaps after Trevor Lawrence played two series, followed by backup C.J. Beathard. Rourke also had six carries for 20 yards and another touchdown.