Editor's note: Seeking Alpha is proud to welcome Millennial Dividends as a new contributor. It's easy to become a Seeking Alpha contributor and earn money for your best investment ideas. Active contributors also get free access to SA Premium. Click here to find out more »
Investment Thesis
As of today, Louis Vuitton, Société Européenne (OTCPK:LVMHF, OTCPK:LVMUY) holds the distinguished position as the largest European company by market capitalization, constituting a significant portion of my portfolio at 4.5%. The company's recent H1 results have been nothing short of impressive, as it achieved another period of record revenue, driven by a remarkable organic growth of 17% and a 30% surge in net income. These outstanding results come despite concerns raised by analysts about a potential slowdown in luxury markets, attributed to rising interest rates and shrinking disposable income. However, LVMH has effectively dispelled these fears.
With the improving economic outlook, I firmly believe that LVMH is well-prepared to sustain its growth trajectory and deliver continued success in the years ahead. In historical terms, the current valuation of the company presents an attractive investment opportunity, leading me to rate LVMH as a Buy.
LVMH Keeps Delivering
In 2023, LVMH, the luxury goods conglomerate, experienced a remarkable stock performance. Bolstered by robust demand for luxury products across global markets and effective management strategies, the company's stock demonstrated outstanding growth and resilience throughout the year. LVMH's stock outperformed major market indices and solidified its position as a leading player in the luxury goods industry. During the last quarter, LVMH has become the first company in Europe to reach the magic mark of $500 billion in market capitalization. The stock has slightly pulled back since then but remains the largest publicly traded company in Europe.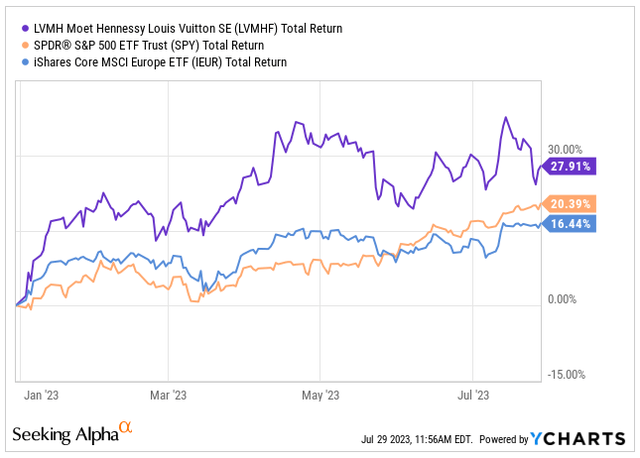 LVMH's organic growth rate over the past 13 years has been superb, averaging an impressive 10.6% YoY. The only deviation from this trend was in 2020, amidst the challenging times of the COVID-19 pandemic. However, excluding that year, the growth has been consistent and is currently showcasing an upward trend over the past 3 years. In my opinion, with the improvement in economic outlook, this trend is set to continue for the H2 2023, where I expect LVMH to deliver between 17-20% organic growth, positively impacted by China reopening, increased travel demand, and recovery in underperforming business groups.

H1 2023 Earnings
On July 25, 2023, LVMH announced its H1 2023 results, generating a record EUR42.24 billion in Revenue, reflecting a stellar 15% YoY growth, as organic growth has been negatively impacted by -2% in FX. Most of the business groups achieved double-digit growth, demonstrating the company's overall robust performance, while reporting surge in Net Profit of 30%. To build a brand awareness and desirability the company had a slightly heavier spending on the Marketing activities, resulting in increase of 17% YoY. While this pressures margins, I view this as an excellent strategy and demonstration of a market leader strength aimed to steal market share from the competitors during economic uncertainty, who may be potentially cutting back on their marketing expenses.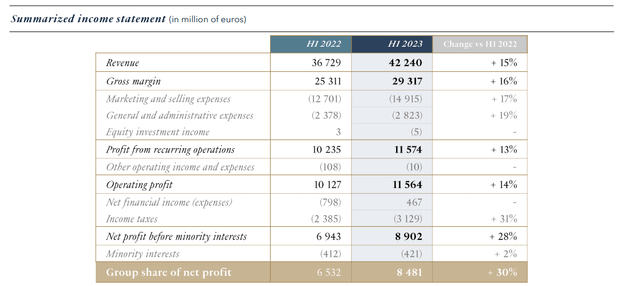 Taking a deeper dive into the Business Groups, let's analyze the main drivers, as a share of Total Revenue.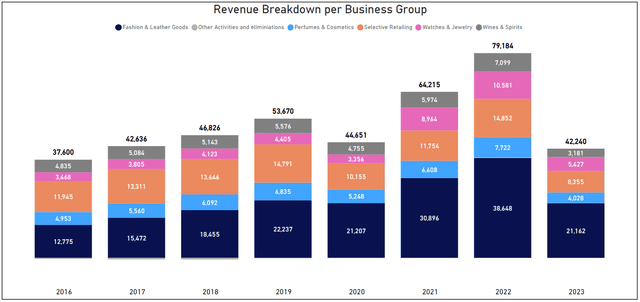 Fashion & Leather Goods, accounting for 50% of the total revenue, has achieved a record-breaking revenue of EUR21.16 billion, demonstrating a phenomenal 20% organic growth rate YoY. The management attributes this impressive growth to the exceptional performance of renowned brands like Louis Vuitton, Christian Dior, Celine, Loro Piana, Loewe and Marc Jacobs. Over the past 8 years, this business segment has exhibited an average growth rate of 16.6%, suggesting that the current growth rate of 20% is well above the historic norms.
Selective Retailing, contributing 20% of the total revenue, encompasses the French Cosmetic Chain Sephora, which LVMH acquired in 1997. Sephora has been consistently delivering robust global growth, while simultaneously expanding its market share in North America, Europe, and the Middle East. Additionally, the reopening of borders and pent-up travel demand has had a positive impact on the DFS (Duty-Free-Shop), though the DFS revenue is still below 2019 levels due to the challenges faced in 2020 when it experienced a virtual stop. Over the past 3 years, Selective Retailing has demonstrated steady and favorable growth, averaging 17%, indicating a robust recovery.
Watches & Jewelry, contributing 13% of the total revenue, has been enjoying historically a steady growth rate of 9.3% and a remarkable 13% YoY increase, highlighting another successful period for this business segment. While the presence of well-recognized brands like Tiffany & Co, Bulgari, and Hublot is noteworthy, I would like to see LVMH enter the realm of watches with historical heritage, such as Rolex, Patek Philippe, or Audemars Piguet. However, acquiring these businesses might prove challenging, as most of them are privately owned companies or trusts not up for sale.
Perfumes & Cosmetics, accounting for 10% of the total revenue, proves to be a smaller business group with a remarkable influence due to the prominence of esteemed brands like Christian Dior, Guerlain, and Givenchy in strategic markets. Despite its relative size, this segment has made a significant impact on the overall business strength, achieving an impressive 13% YoY growth. This growth surpasses the historical rate of 9%, underscoring a robust momentum that is poised to continue in the upcoming quarters.
Wines & Spirits, contributing 8% of the total revenue, faced a significant challenge during H1 with a negative organic growth of 3%. This decline was primarily attributed to subdued demand for Cognac & Spirits in the US, influenced by the prevailing negative economic sentiment and high inventory levels among distributors at the beginning of the year. However, there is a silver lining as the company has expressed optimism for a potential reversal of this trend. The anticipated tangible improvements in the economy are expected to drive a gradual recovery in the US market, and China's reopening after the COVID-19 restrictions is also projected to boost demand in that region.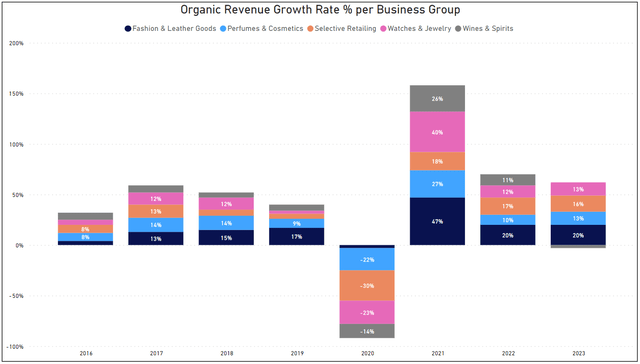 Risks
From my perspective, considering the escalating political tension between the West and China, I believe it would be prudent for LVMH to pursue an overall reduction in reliance on the Asian market from a risk perspective. Diversifying operations and maintaining a balanced global presence could serve as a strategic approach to mitigate potential geopolitical uncertainties and safeguard the long-term stability of the company. However, I calculated an opposite trend in recent years. The revenue reliance on the Asian market has increased, rising from 26% in 2016 to 34% in 2023. In contrast, the revenue dependence on the US, France, and the rest of Europe has decreased. This trend raises concerns for me as it may pose a risk that could backfire within the next 2-5 years if relationships deteriorate.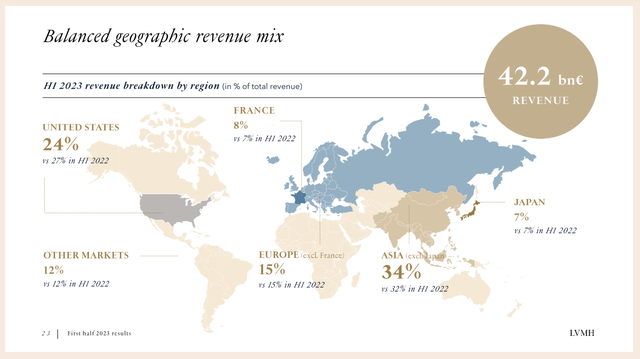 Outlook
As the number of wealthy population continues to grow, the outlook for luxury goods remains promising. According to the Fortune Business Insights report, the luxury goods market is projected to experience a significant CAGR of 4.7% between 2023 and 2030, indicating substantial growth opportunities in the sector. Nevertheless, the luxury goods market has grown between 1996 to 2022 at a rate of CAGR 6%, yet LVMH has easily outperformed the market average and delivered almost double the growth. Given the company's track record, I expect this trend to continue and LVMH grow at least at double rate of the market, around 10%.
With the increasing influence of social media, luxurious experiences have witnessed a tremendous surge in popularity, as people showcase their moments and post pictures on social networks to display their luxurious lifestyles. LVMH has made initial forays into this space through its Courchevel Ski Resort, Bulgari hotels, and the acquisition of Belmond Hotel Chain. However, I believe there is space for a stronger commitment from the company to capitalize on this opportunity. The luxury travel and experiences market is projected to grow even faster, with a CAGR of 7.6%, surpassing the growth rate of the luxurious goods market.
Valuation
Great time to buy LVMH in recent years has been during October 2022, with the general market downturn. I firmly believe you have pulled the trigger and either started or added to an already existing position at a discounted valuation. If you purchased the stock at the beginning of October, you would be sitting today on roughly a 60% return, which beats the SPY return by more than 30%.
Despite a substantial rally in LVMH's share price, I believe the company's valuation remains quite appealing. Currently, it is trading at a P/E of 26.96x, which is higher than that of normal retail companies but significantly discounted compared to other luxury brands. In contrast to LVMH's PE ratio, peers such as Hermes (OTCPK:HESAF), Estee Lauder (EL), and Moncler (OTCPK:MONRF) have an average P/E ratio of 49.58x, representing a substantial premium of 83.9%.
In my opinion, LVMH should not be trading at such a steep discount to its peers, considering its consistent delivery of excellent results and comparable growth rates. For instance, its H1 organic revenue growth of 17% is only slightly below the 24% reported by Moncler. As long as the company continues to deliver, I expect its valuation to eventually to move closer to its peers, offering significant upside potential from today's level.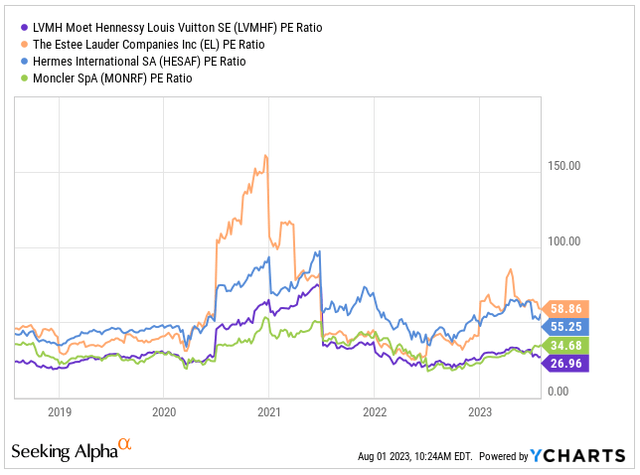 Over the past six years, LVMH has delivered CAGR of 12.5% in Revenue. Looking ahead, my calculations suggest that this growth is set to continue for the next decade, though at a lower rate of CAGR 8.0% being driven by organic growth, strategic M&A, and a strong pricing power.
If my projection comes to fruition, LVMH's Revenue is expected to achieve a staggering EUR180 billion in Revenue and EUR52.8 billion in Operating Profit by 2032. Likewise, I am anticipating an expansion in the company's Operating Margins from 27.4% to 29.2% by 2032, driven by leveraging economies of scale and operational efficiencies across their brands.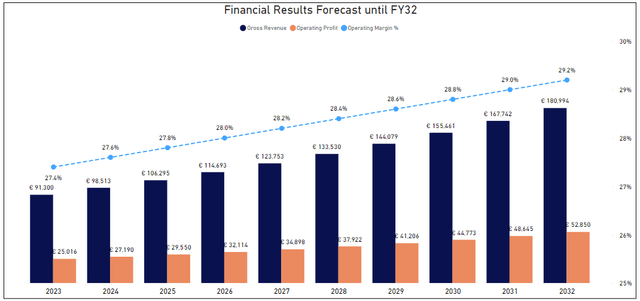 To estimate the Fair Value of LVMH, I am using DCF Model. On top of the growth assumptions above, I am using WACC of 9.95%, Tax Rate of 26% and Terminal Growth Rate of 3.5%, below the historical growth rate of the industry. Based on historical data, I have estimated that Depreciation & Amortization and CAPEX will likely fall within the approximate range of 30% and 22% respectively, in relation to the EBIT. Average Terminal Value is calculated as an EBITDA multiplied by EV/EBITDA ratio of 14.94 and Perpetuity Growth Value adjusted per WACC. After discounting these values over the upcoming 10 years, PV of FCF amounts to approximately EUR160 billion, while the PV of TV reaches nearly EUR320 billion. Consequently, the total Enterprise Value is assessed at EUR480 billion. Once adjusted for Cash, Marketable Securities, Short & Long-term debt, the resulting Equity Value stands at EUR469 billion.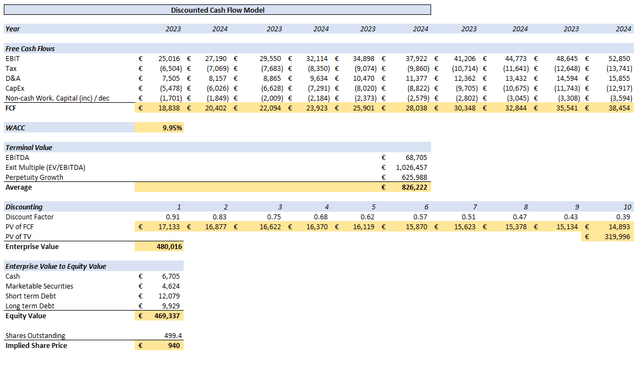 My calculation suggests that the Fair Value of the company stands at EUR940 ($1.032 for the ADR), indicating an undervaluation of 12.5% when compared to today's price of EUR823 ($910 for the ADR).
Conclusion
Despite the global economic uncertainty, LVMH has once again demonstrated exceptional performance in H1 2023, achieving record-breaking revenue growth of 17% YoY, well surpassing its historical growth rate of 10.6%. As a market leader in the luxury goods industry, LVMH is strategically positioned to leverage the positive trends in the growing luxury goods market and potentially expand its presence into the even faster growing luxurious travel & experience sector.
LVMH distinguishes itself as a well-managed company, and its valuation appears reasonable when benchmarked against its industry peers and calculated Fair Value. Given these factors, I rate LVMH as a Buy. Furthermore, potential dips below EUR800 present an even more compelling opportunity, leading me to categorize such situations as a Strong Buy for investors looking to capitalize on the company's growth potential.
Editor's Note: This article discusses one or more securities that do not trade on a major U.S. exchange. Please be aware of the risks associated with these stocks.