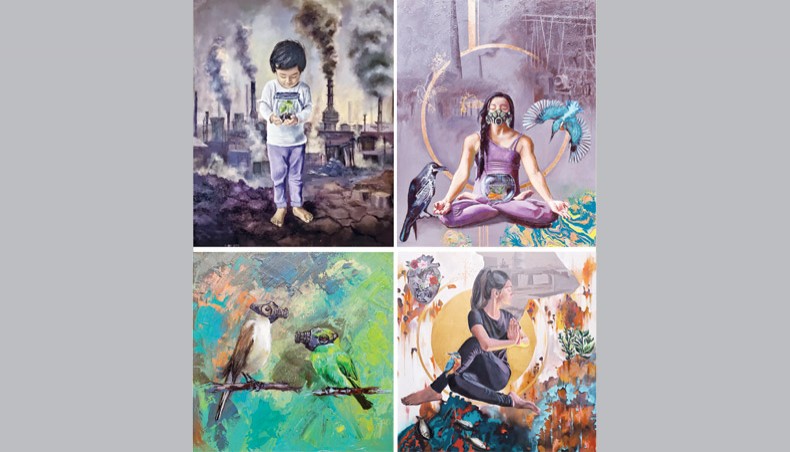 Young artist Tamera Khan has attempted to raise environmental awareness through artworks in a solo exhibition under way at the EMK Centre, Dhanmondi in the capital.
The exhibition titled Silent Suffering is featuring 35 paintings under three series, namely 'Requiem for Life', 'Mechanocalypse' and 'Unliving' along with nine paintings depicting the impact of environmental pollution on humans, animals, birds, fishes and plants. The artworks have been created from 2019 to 2023.
'I grew up in Saudi Arabia before I got admitted to the fine arts faculty of Dhaka University. After I came to Bangladesh, I have witnessed that most of the people pay no heed to environmental pollution,' said Tamera Khan.
'Not only humans but also all living organisms are struggling to survive in today's world due to man-made sources of pollution. As an artist, I have tried to highlight how humans are destroying the delicate ecosystem,' added artist Tamera Khan.
'Requiem for Life', comprising twelve acrylic and pen on canvas artworks, shows birds trying to use oxygen masks.
'Mechanocalypse', comprising eight acrylic and pen on canvas artworks, depicts deforestation, massive urbanisation and industrialisation.
'Unliving', comprising six acrylic artworks, shows the impact of water pollution on tigers, fishes and others.
An acrylic artwork titled Crisis of Existence shows a woman doing yoga wearing an oxygen mask. She is carrying a fish inside an aquarium flanked by a kingfisher and a crow.
'Hope', a mixed media artwork, shows a child trying to raise a plant inside a jar.
The exhibition was inaugurated on July 30. It will end on August 16.