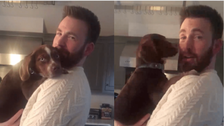 After trending for decidedly non-wholesome reasons earlier this year, Chris Evans is once again causing all sorts of conversation on social media.
But this time it's over a very-safe-for-work video of the "Marvel" star cuddling up to an adorable puppy while wearing a chunky knit sweater. 
And, yes, said chunky knit sweater just so happens to exactly resemble the same garment he famously wore in "Knives Out," which spurred many a cream-colored iteration to sell out in stores across the country. 
On Sunday, Olympic gold medalist Aly Raisman shared a video of her rescue pup Mylo and Evans' furry friend Dodger meeting for the first time. 
"Gentle, be gentle," Evans cautioned in the Twitter video. "You got a new buddy?"
She then shared a clip of Evans lovingly holding and kissing her dog that's since racked up over 500,000, adding in the caption, "Best buds." 
Evans also shared some videos of the outing from his own account. 
"Dodger had a very energetic play date," he wrote alongside a video of the canines roughhousing on a patio while Raisman watched. 
"Too bad his charm didn't work on me," he jokingly wrote alongside a different video, which showed him cozying up with Mylo.
While their puppy hangout very well might be platonic, that didn't stop people on social media from suspecting that Evans and Raisman might be giving each other puppy eyes.
Always blessed to have Chris Evans in chunky sweaters content… but also extremely here for Aly Raisman and him as a possible couple. 👀👀👀 https://t.co/nWmAx7CuYN

— Frank Costa (@feistyfrank) November 15, 2020
Chris Evans.

With a beard.

Wearing his KNIVES OUT sweater.

Holding and kissing a rescue puppy.

While hanging out with two-time Olympian Aly Raisman.

⚰️ https://t.co/VeKGL3d2NQ

— Dave Quinn (@NineDaves) November 15, 2020
I'm glad that the whole TL is just all of us collectively losing our shit to Chris Evans in a sweater holding a puppy. 😆💙

— MiddiMidori (@MiddiMidori) November 15, 2020
Chris Evans & Aly Raisman having a playdate w/ their dogs yesterday is the cutest thing ever… & I know it is none of my business but I would NOT be mad if Aly & Chris were dating. She deserves all of the love & respect in the world & I feel like he could give that to her!!!

— eve (@barcelonababy12) November 15, 2020
Evans has been publicly single since his March 2018 breakup with Jenny Slate, despite rumors swirling about a possible romance with British actor Lily James earlier this year.
The two were spotted out and about together in London on multiple occasions over the summer, but both have refused to confirm or deny the potential relationship. 
But should Evans and Raisman take their friendship to the next level, it's only a matter of time before they're all outfitted in coordinating knitwear, considering Evans' dog already own his own set.