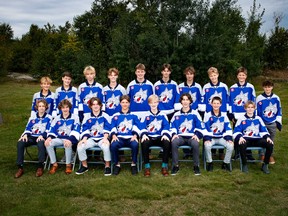 Article content
No one in the Northern Ontario Hockey Association is suggesting the region has suddenly become the shining beacon of hockey development for the province and the country.
Article content
All are keenly aware that there is ample room for improvement in terms of providing a much better template that will allow all youngsters who first lace up the skates to develop to their full potential in outposts ranging from Powassan to Wawa and everywhere in between.
Article content
There is absolutely no denying than numbers are nowhere close to where they used to be — the reasons for which are many and could easily fill the contents of an entire column of their own (and likely will someday).
That said, for those who bothered to take in some of the Northern Ontario Hockey League AAA Showcase at Gerry McCrory Countryside Sports Complex this weekend, there were undeniable reasons for optimism, clear-cut evidence that elite hockey excellence can and is still being produced, in pockets, in Northern Ontario.
Article content
"I remember when we were at this age, we were nowhere near where these kids are at in terms of their foot speed, their skating, their shooting, their passing — all of it," noted Justin Carre, head coach for the North Bay Trappers, not long after his U12 AAA team edged the Soo Junior Greyhounds 2-1 in what was perhaps the highlight outing of the event.
Just the ramblings of another delusional hockey parent whose offspring have finally earned that extra A on the arm of their new coat, you ask?
Then you need to be aware that Dr. Justin Carre holds a PhD and specializes in the study of social neuroendocrinology, his interest in academia often merging with his lifelong love and fascination in hockey and sport in general. He was also a key contributor to the Rayside-Balfour Sabrecats team, which lost in the final of the 2000 Royal Bank Cup in Fort McMurray, moving on from the NOJHL to a hockey scholarship at Canisius College.
Article content
Yep, the 42-year-old native of Azilda knows a thing or two about this game.
"The kids nowadays are faster, they're stronger," Carre said. "They use their bodies really well. There is no body checking now until U14, but at U12, there is still a lot of body contact. The kids are learning how to play their angles."
While the NOHA does not contest AAA hockey below the U12 level, where much of the remainder of the province does, ostensibly to help promote a wider spectrum of overall growth in young players at the ages of six to 10 or so, Carre is confident that his team, as well as both Sudbury and Sault Ste. Marie, will all more than hold their own as they test themselves this year against the best teams in Ontario.
"We actually went to two AAA tournaments last year as an AA team and we fared pretty well," said Carre, whose team was a combined 6-2 at those events. "The difference when you are talking about those top five or six teams in Ontario is just puck movement. Those kids know how to move the puck. They know that the puck moves faster than anybody can skate."
Article content
And just to show we are still talking about 11-year-olds, the Trappers team which looked so good in beating Sudbury 8-3 in their opener and then slipping past the Greyhounds proceeded to drop an 8-4 decision to the Wolves and lost 4-1 to the Sault on Sunday.
Yes, there remains work to be done.
For Sudbury Wolves U14 AAA head coach Gerry Dupuis and company, much of that work needs to be done off the ice. In his first year behind the bench of the squad that captured silver at the all-Ontario championships last spring, Dupuis was more than happy with the on-ice effort that produced a three-game sweep over the Junior Greyhounds by scores of 10-2, 5-3 and 9-1.
Therein, however, lies the problem.
There are currently just two NOHA AAA entries in this age bracket and, for a number of valid reasons, Hockey Canada limits tournament and game play in the youth ranks. The Wolves were able to bump their season quota from five to six tournaments and were OK'd to do both the showcase and the Red Wings tournament this month, but the option of filling in much of the balance of their calendar with weekend friendlies against OMHA opponents has not gone well.
Article content
"We've reached out to about 10 teams or so, but their schedules are so filled up there is no room for exhibition games," Dupuis said.
While they continue to turn every stone in finding meaningful games, the team staff will focus on the controllable, looking to raise the standard for a squad that has its sights set on participating in the newly created OHL Cup next spring.
"This weekend went well," Dupuis stated. "I was very impressed with the way that we skated. The puck movement wasn't quite there, so that's something that we will start working on more."
And, of course, U14 is the first year that checking is allowed, which brings about a whole other layer of teaching for Dupuis and his cohorts.
"The kids were a little excited in that first game, running around and looking for a big hit," he said. "There was progression as the weekend went on.
Article content
"They realized that they still have to skate and move the puck and that it's not all about contact at this level."
The U14 AAA Wolves are off to the Toronto Red Wings Early Bird Tournament this coming weekend, facing both the Southern Tier Admirals and the Markham Waxers on Friday.
Much like the Trappers U12 crew, the U13 AAA Wolves experienced a bit of a roller-coaster weekend, blowing out North Bay in Game 1, surrendering a third-period lead in a 6-4 loss to the Sault in Game 2, stopping the Thunder Bay Kings 3-1 in Game 3 and overcoming a two-goal deficit to toppled the Kings 4-3 in overtime in their finale.
And much like coach Carre, Sudbury U13 bench boss Joey Talbot suggested that in some ways, minor hockey is clearly far ahead of where it was 20 years ago.
Article content
"When you look at the kids now, skill-wise, where they are at 12 years old is incredible to where I felt that we were when I was 12 years old," said the 43-year-old Wahnapitae native who lit the lamp more than 100 times as a member of the Ottawa 67's before playing university hockey at Western and professional hockey for eight years split between Alaska and England.
Talbot also agrees that there is still plenty of work to be done.
"These kids need to start to understand that you can be a super-skilled player, but if you don't know how to play the game properly, that skill goes to waste," Talbot said. "Right now, that's probably the next step for them. Little by little, they are going to have to learn to put that skill to use in a team game where I only touch the puck for a minute a game or so."
Hockey in the North is not perfect — a long way from it — but the sky is also not falling on elite hockey in these parts.
Randy Pascal's That Sudbury Sports Guy column runs regularly in The Sudbury Star.