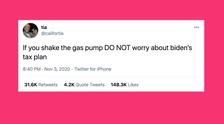 I'm fortunate to live comfortably without any major money worries. But I don't have any delusions about being wealthy, either. I have popcorn ceilings, furniture from Craigslist and a special drawer in the kitchen where I save extra fast-food utensils, napkins and condiment packets.
In other words, I do not need to worry about Joe Biden's tax plan.
Only 1.8% of U.S. taxpayers earn enough money to see higher taxes under Biden's proposal. For everyone else, here are some hilarious and brutally honest reminders from Twitter that there's no need to be concerned.