In the exhilarating world of sports, self-confidence is a prized asset. It's that unwavering belief in oneself that can elevate athletes to unimaginable heights. Recently, a survey surfaced that shed a rather humorous light on just how inflated some recreational players' self-confidence can be, particularly when it comes to facing off against professional tennis players.
America's Favorite Video Today
The numbers were staggering, with a whopping 71% of respondents claiming they could nab a game off a tennis titan. It caught the attention of several players, like Nick Kyrgios, who mocked their inflated confidence. Now, American tennis legend Andy Roddick couldn't resist chiming in, dropping a cheeky analysis that left us all chuckling.
Andy Roddick's facepalm over absurd stats
ADVERTISEMENT
Article continues below this ad
The survey caught the attention of both longtime sports fans and those who are just getting into tennis. It revealed that 71% of the people asked were convinced they had what it takes to win a game against a pro tennis player. This number is interesting and shows that many folks have a mix of confidence and maybe a bit of wishful thinking when it comes to sports.
When the survey results were broken down by age, things got even more fascinating. Over 80% of younger people felt they could go up against someone like Novak Djokovic, while almost half of those over 55 also believed in their tennis skills.
Enter the charismatic Andy Roddick, a former tennis ace who knew a thing or two about gracing the hallowed lawns of Wimbledon. Roddick, with his signature wit, couldn't resist sharing his thoughts on this survey. He quipped, "This is insane. If I had as much self-confidence in my tennis game as these people surveyed, I would have won Wimbledon 17 times, minimum. This is absolutely insane. There is no chance."
The sheer audacity of Roddick's hypothetical claim is a testament to the fine line between delusion and genuine self-belief. Roddick further added to this laughable stat and added an old story to the narrative, where he shut down a person who wrote a book about how to compete against a pro tennis player. The result? Well, it was the most Andy Roddick thing he could've done.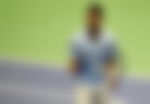 'Hope It Brings Him Luck' – Days After Novak Djokovic's New Head Racquet Reveal,
Lacoste Leaves Fans Thrilled With Its Latest Announcement About Serbian's US
Open Swing
Roddick's funny tale involving a frying pan
ADVERTISEMENT
Article continues below this ad
Roddick also shared a funny story from his past, involving a unique challenge. "I played Ohio University intramural championship back in '05 or '06 because a guy was running a book about what would be needed to compete with a pro. I beat him with a frying pan." This story highlighted the huge gap between regular fans and the professionals who play on the big tennis stage.
Providing feedback will help us make your experience better.
Enjoyed Your Read? Let us know how likely you are to recommend EssentiallySports to your friends!
ADVERTISEMENT
Article continues below this ad
While Roddick's claim might be more whimsical than grounded in reality, it's essential to recognize the beauty of such fantasies. Sports, after all, is as much about dreaming as it is about discipline and dedication. Whether it's a survey that reveals the unyielding self-confidence of tennis fans or a former champ spinning tales of frying pan victories, these moments bring a dash of charm to the fiercely competitive world of sports.
WATCH THIS STORY: Days After Rival Novak Djokovic's Croatian Getaway, Roger Federer Follows Suit as He Continues His Dream Summer Vacation With Wife Mirka and Children