Written by Richard Pérez-Peña, Andrew E. Kramer and Farnaz Fassihi
The entire world has a vested interest in helping defeat the Russian invasion of Ukraine, President Volodymyr Zelenskyy of Ukraine told the UN General Assembly on Tuesday, casting his appeal for more allies and aid as a matter of security — even survival — for many other nations.
Delivering one of the most anticipated speeches of the annual gathering of world leaders, Zelenskyy painted Russia as a habitual aggressor, citing Moscow's military interventions in Moldova, Georgia and Syria, its increased control over Belarus and its threats against the Baltic States.
"The goal of the present war against Ukraine is to turn our land, our people, our lives, our resources, into a weapon against you, against the international rules-based order," he said.
Almost 19 months into a war with no end in sight, UN leaders had signalled that they wanted this year's General Assembly, which began Tuesday, to center on global warming and the sustainable development of poorer countries. They were hoping for less of a focus on Ukraine than last year, when Zelenskyy addressed the gathering by video.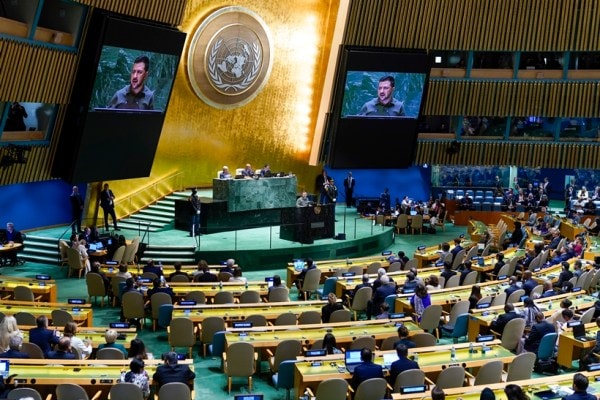 Ukranian President Volodymyr Zelenskyy addresses the 78th session of the United Nations General Assembly, Sept. 19, 2023 at United Nations headquarters. (AP)
But this time, Zelenskyy travelled to New York to speak in person, with the aim of preventing the world from losing interest in — or patience with — the largest conflict in Europe since World War II. He wants to shore up support among the United States and its allies, while winning over the many other countries that have carefully avoided taking sides. The Ukrainian leader is to continue on to Washington later in the week.
Zelenskyy's message that Ukraine's cause is a global one paralleled the remarks hours earlier of President Joe Biden, who told the gathering: "If we allow Ukraine to be carved up, is the independence of any nation secure? I respectfully suggest the answer is no."
Zelenskyy said that while the world has long focused on nuclear war between major powers as the ultimate threat — the Kremlin has hinted at the use of nuclear weapons repeatedly during the current hostilities — it has lost sight of the importance of dangers that can seem less threatening. He pointed to efforts by Russia to choke off Ukrainian food exports, contributing to shortages in Africa and elsewhere; to its manipulation of oil and gas to pressure other countries; and to its systematic bombardment of Ukraine's energy infrastructure.
Russia, he said, is weaponising such essentials "not only against our country but against all of yours as well."
Ukraine gave up its third largest nuclear arsenal. The world then decided Russia should become a keeper of such power. Yet, history shows it was Russia who deserved nuclear disarmament the most. And Russia deserves it now – terrorists have no right to hold nuclear weapons. pic.twitter.com/5gsz3iijTf

— Volodymyr Zelenskyy / Володимир Зеленський (@ZelenskyyUa) September 19, 2023
Zelenskyy objected bitterly to the Russian practice of taking children from occupied portions of Ukraine and placing them with faraway Russian families. The International Criminal Court has indicted President Vladimir Putin and the Russian official in charge of children's welfare over those actions.
"Those children in Russia are taught to hate Ukraine and all ties with their families are broken, and this is clearly a genocide," Zelenskyy said.
Ukraine, he said, has the names of tens of thousands of Ukrainian children who have been kidnapped and transferred by Russia. "We are trying to get children back home, but time goes by," he said. "What will happen to them?"
Even South African President Cyril Ramaphosa, who has remained studiously neutral in the war, said in his turn at the podium Tuesday that "the children who were removed from Ukraine should be returned."
I reminded the SDG Summit that, despite Russia's maritime blockade, Ukraine has delivered grain to many countries around the globe.

Algeria, Djibouti, Egypt, Kenya, Libya, Lebanon, Morocco, Somalia, Tunisia, Bangladesh, China, India, Indonesia, Malaysia, Sri Lanka, Thailand,… pic.twitter.com/jARRRuI8OU

— Volodymyr Zelenskyy / Володимир Зеленський (@ZelenskyyUa) September 19, 2023
Putin is not attending the session, and the Russian representative is not scheduled to speak until later in the week.
Ramaphosa, who met with Zelenskyy on the sidelines of the meeting, has offered South Africa as an intermediary for peace, but each side in the war has laid out conditions for talks that the other calls unacceptable.
Ukraine has been seeking backing for a 10-point settlement program that demands a full Russian withdrawal and payment of reparations, while Russia insists on Ukrainian and international recognition of its annexation of Ukrainian territory.
Zelenskyy and his aides have for months been drumming up support for a summit on Russia's war that would include developing nations that have been on the fence or even leaning toward Russia. "For the first time in modern history, we have a real chance to end the aggression on the terms of the nation which was attacked," he said Tuesday.
Most Read
1
As Indo-Canadian relations sour, anxiety grips Indian students, residents who wish to settle in Canada
2
Farida Jalal recalls the time when Amitabh Bachchan-Jaya Bachchan were dating: 'They would pick me up at night, we would go for long drives'
He cautioned against "shady dealings behind the scenes" among nations seeking peace, reflecting Ukraine's insistence that it must win the war and not be forced into accepting a settlement that rewards Russian aggression.
Zelenskyy drew a parallel to the fate of Yevgeny Prigozhin, the mercenary warlord who turned against Russia's military leadership, then stood down with his security reportedly guaranteed. Two months later he died when his plane mysteriously fell, smoking, from the sky.
"Evil cannot be trusted," Zelenskyy said. "Ask Prigozhin if one bets on Putin's promises."